The Station Wi-fi For All project run by Google for the Railways currently connects millions of passengers with internet for free. When it is expanded to 400 stations, it is touted to become the world's largest public Wi-Fi project.
Helping the Indian Railways spread connectivity to railway stations in cities and towns and every rail passenger is Internet giant Google.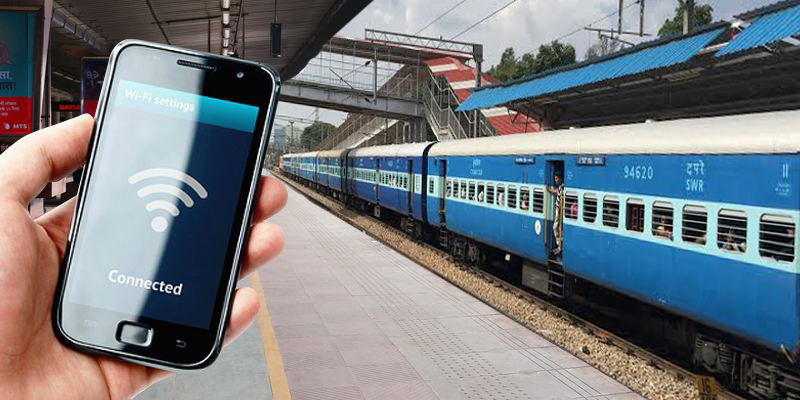 The Wi-Fi For All project comes without any strings attached – it's free and has no download limit once a user logs on using an authentication code. This is in a way also helping India bridge the digital divide.
When the project was conceived in 2015, a railway officer told YourStorythat RailTel Corporation—a public sector unit and the largest neutral telecom infrastructure provider in the country owning a pan-India optic fiber network on exclusive right of way along railway tracks—used to provide the connectivity through its broadband service RailWire. But, soon, the free service ran into problems and led to many complaints. As RailTel had already tied up with Google for providing technology, the Internet giant itself took over the responsibility of providing the service.
A railway officer said,
RailTel had roped in Google as its technology partner for setting up and providing a fast Wi-Fi network covering 400 stations. As of now, passengers can log in from 119 stations. Once implemented, this will be the largest public Wi-Fi project in the world.
Now, Google's own routers connect users at blazing speeds that enable them to download entertainment, browse through mails or even to just check if the train they are on is running on time. The Wi-Fi is available to any user with a working mobile connection on a smartphone.
How does it operate? A user can log on by going to the website railwire.co.in, entering their phone number and choosing 'receive SMS'; an OTP is generated and the user can then get connected.
Tej Kiran, a social media marketer who used the free Wi-Fi at Yesvantpur station in Bengaluru last week said internet speed was good. "In a matter of minutes, I found that some of the videos I had received on my WhatsApp, which I was unable to open earlier, had downloaded without much effort. I was able to view many videos which would have taken a lot of time to download through my phone service provider. There is no limit too on the volume and, once connected, the user is always connected to the system," Kiran added.
Railway officers say the speed is such that passengers waiting for a train or those on a train at some stations can use this free facility to stream high-density videos, download movies, songs, do office work online, check emails and even play games.
At some stations, there are complaints that the Wi-Fi connection gets disconnected after 30 minutes. "We found free internet was leading to non-passengers using them too. We want only genuine passengers to use them. At passing stations, trains rarely stop for 30 minutes, so we will soon have a 30-minute free limit. If the user wants to continue they will have to pay," an officer said.
Vyoma Media founder Shriranga K. Sudhakara says that his company's 2,000-plus screens are all currently connected on the cloud in 21 railway divisions. Vyoma Media is an ad-tech company that places advertisements dynamically for brands on TV screens fixed at rail stations that display adverts as well as social messages.
"Now with fast Wi-Fi connectivity at railway stations, we can geo-locate users and create ads based on user interests," Sudhakara says.
June 20, 2017 is the inaugural year of World Wi-Fi Day. It is being celebrated by the Wireless Broadband Alliance, which came up with this initiative in the hope to accelerate affordable wireless connectivity around the world.
Its hope for connectivity charter directs attention of cities, government bodies, telephone operators, technology vendors and internet giants towards the critical influence and success of wireless connectivity in bridging the digital divide.Read More