Dear Friends,
Hope this note finds you well.
Now that we are a month into this financial year, it is always good to reflect on the year gone by. There were many highlights along the way and we hope to continue achieving industry leading milestones this year. Constant innovation along with the desire to remain at the forefront of the DOOH industry has always been at the core of our business and last year saw us grow leaps and bounds towards that pursuit. On the business front, we made steady in-roads by signing up marquee brands. To name a few, companies like Google, Ministry of Tourism – Incredible India campaign, Ministry of Power, Rim Zim- a Coca-Cola brand, Directorate of Information & Public Relations (DIPR) – Karnataka, MasterCard, Aaj Tak, Khadi Board, Kotak AMC, SBI, Just Dial and Sudha Diary all partnered with us and realised the full potential and reach of our intelligent display network. We've already started this year with a big bang announcement that we entered a new transit vertical a few weeks back – the Kolkata Metro. Now over 7 lakh passengers in the 'City of Joy' who use the metro daily will get to see our 233 displays at every ticket counter across all 24 metro stations.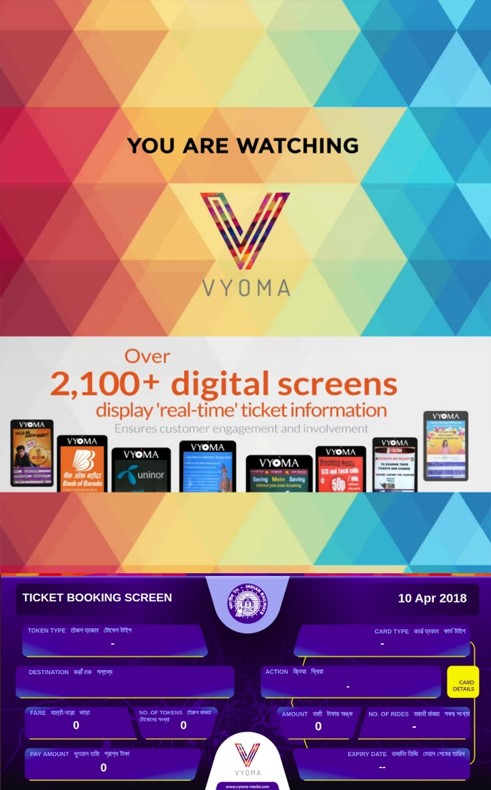 So to last year. Let's start our recap at India's biggest annual marketing conclave where the who's who of the industry gathered. Held at the end of October, Shriranga Sudhakara, our Managing Director and Founder, spoke on 'Building brand loyalty through social media and DOOH integration' at the 17th Edition of Exchange4Media's flagship property in Mumbai. Sharing the stage were renowned global and national media personalities such as Carter Murray, Worldwide CEO, FCB, Norm Johnston, Global CEO, FAST,
Mindshare Worldwide, Dr Subhash Chandra, Chairman Zee and Essel Group and Dr A. Velumani, Chairman and Managing Director, Thyrocare Technologies amongst many others. The overall theme was 'Leveraging Open Innovation to Engage Consumers' and it was the perfect opportunity for us to reiterate that innovation and amplification is at the heart of what we do.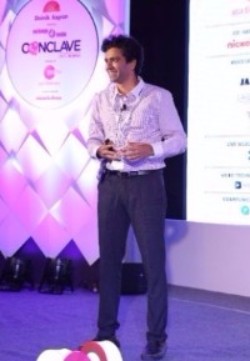 We were equally proud to be invited for NITI Aayog's Champions of Change initiative by the Honourable Prime Minister in August. We were the only company representing the DOOH community and the event brought together over 200 CEOs and start-up Founders. It provided Shriranga with a powerful platform to showcase our achievements and participate in discussions on the policy making process.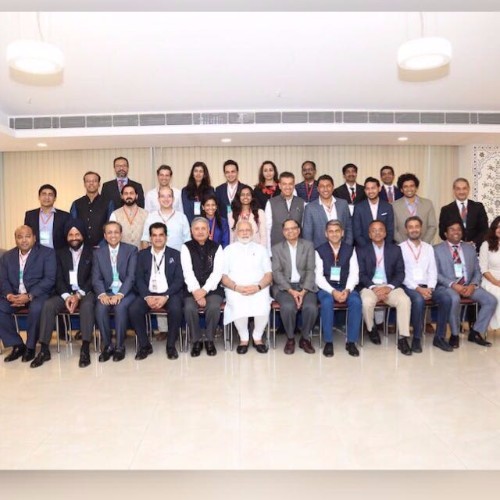 The accolades also kept on coming and Shriranga was selected as one of Business World's Disruptors in September. The publication selected 20 entrepreneurs who shared their valuable insights of success at an event in New Delhi. A few of the other disruptors were B9 Beverages Pvt. Ltd. (Bira91), Bharti Axa General Insurance Company Ltd., BYJU's Learning App, amongst others. Internationally, The Digital Place Based Advertising Association (DPAA) also invited Vyoma to join the organisation back in July. We are and still remain the first Indian company to join this industry body and in partnership we aim to bring global best practices to the market and further enhance our offering. There are already plans in place to introduce the DPAA to the Indian market this year.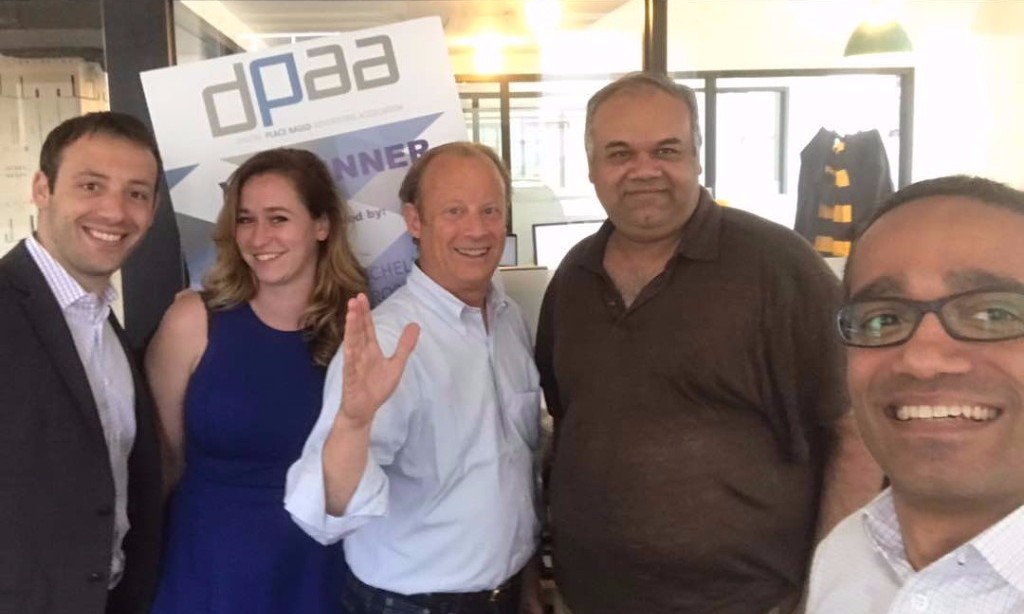 We were also recognised as the DOOH 'Company of the Year' in Silicon India, one of India's leading technology magazines.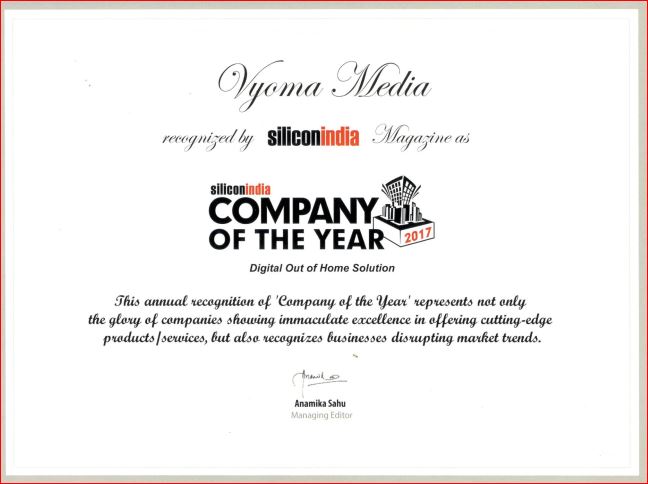 We were also awarded as the '7th Best Company' to work for in the Large Company category during the Workplace Experience Ranking (WER) survey organised by Culturro in association with Business World.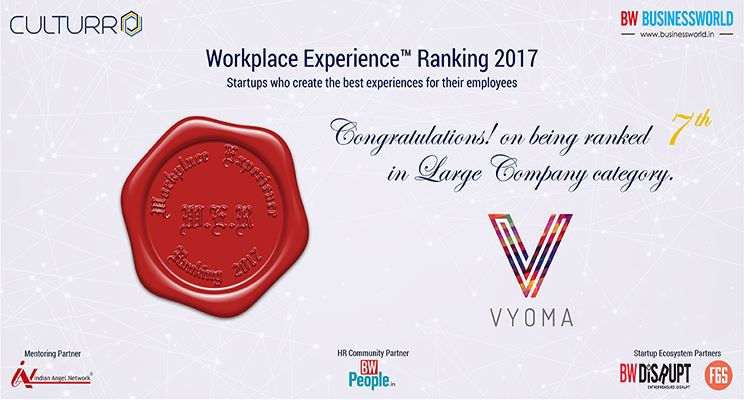 As mentioned earlier, we have just launched in the Kolkata metro. Shifting our focus from the Railways, we also associated ourselves in a first-of-its-kind initiative with Bengaluru Metropolitan Transport Corporation (BMTC) where we revamped our platforms to display real time bus information across 35 intelligent screens in 11 major bus depots across the city.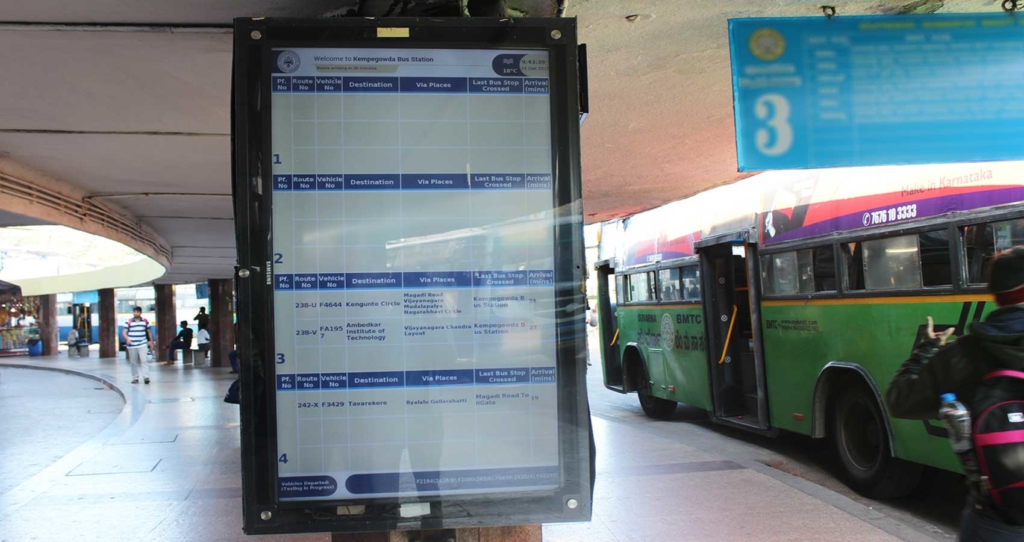 From a marketing perspective, we associated ourselves with SportEx Asia – one of the leading Sports and Sports Business Conferences in February where we were their official DOOH partner and Mr. Shriranga Sudhakara was one of the panellists speaking on Sports: Marketing and Branding Opportunities.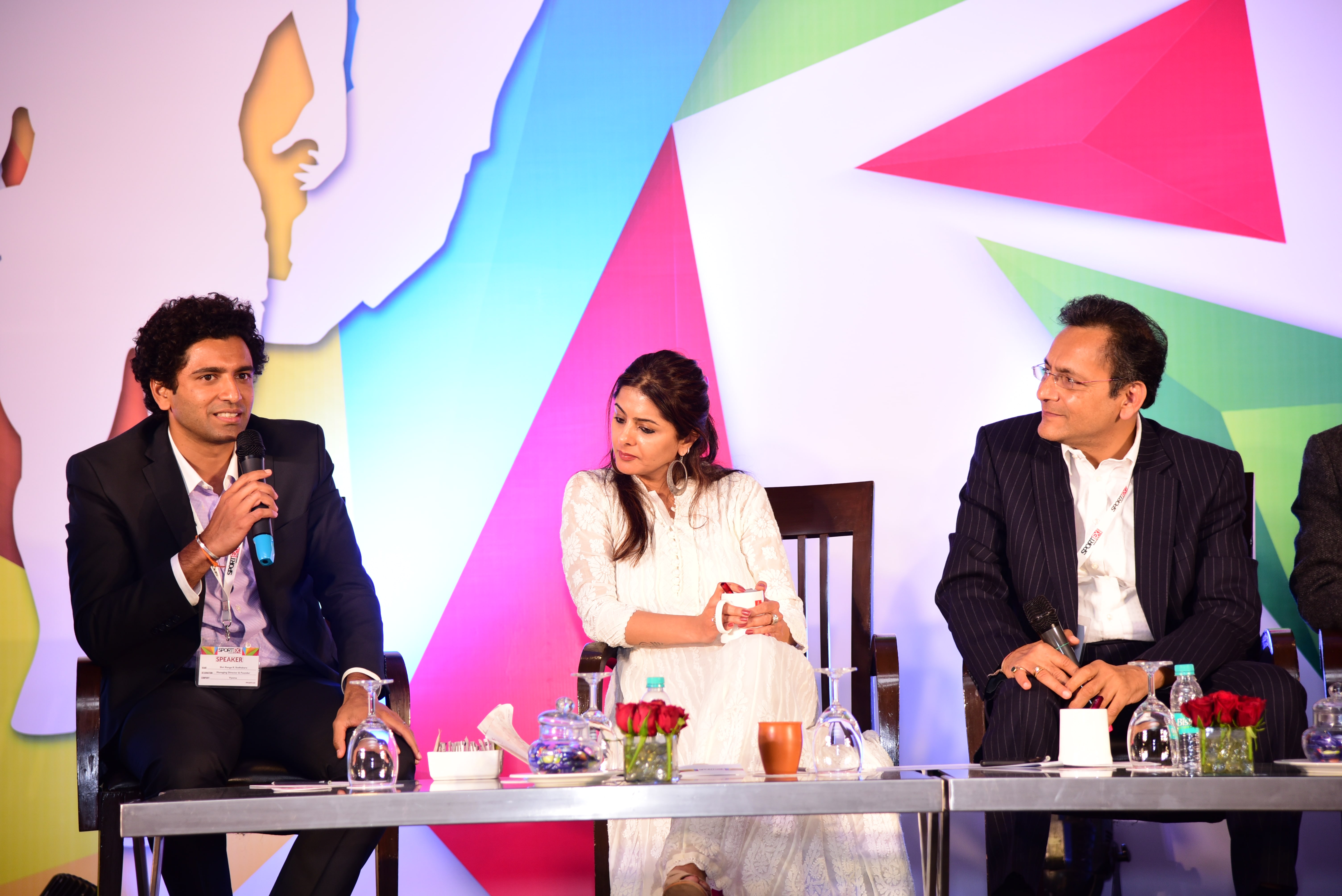 We also partnered with the Super Fight League (SFL) – the world's first and only mixed martial arts tournament that was broadcast on MTV. We were SFL's official DOOH partner and promoted the semi-finals and final fights for 10 days in March across all our displays in Mumbai. We reached out to 9.3 million viewers during the course of 10 days. It was a great success as the sheer number of calls from our displays could have filled the venue 1.4x during the final.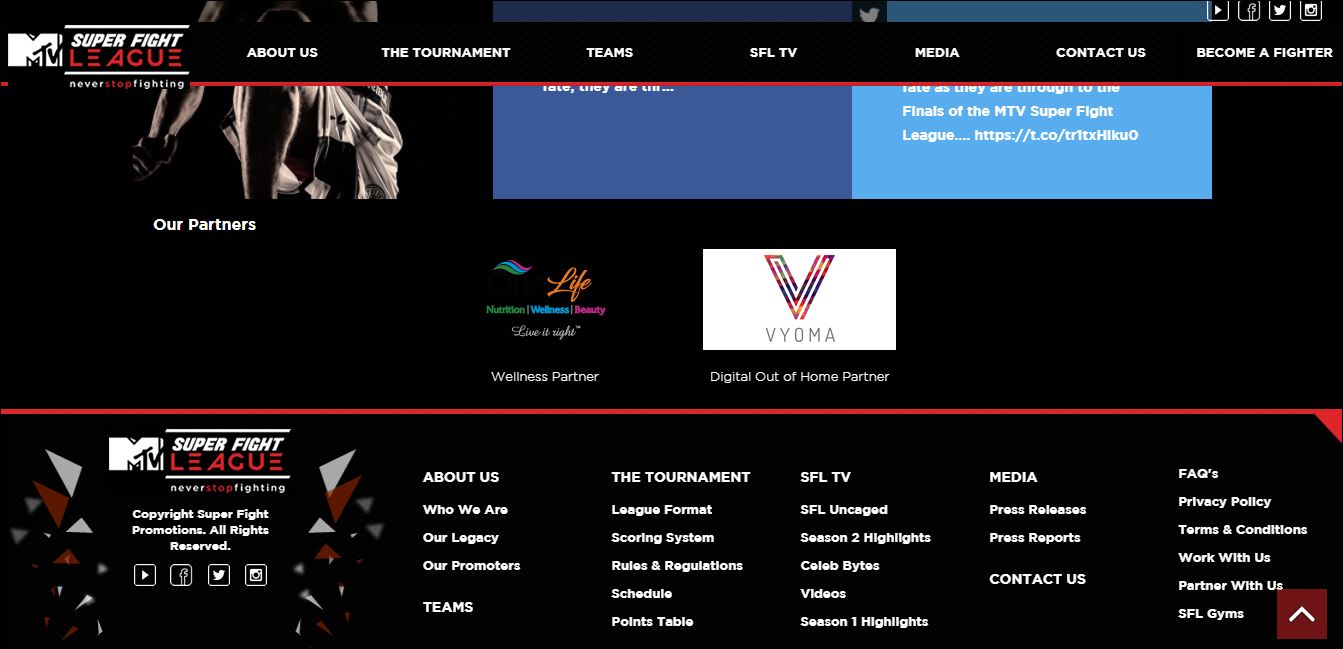 For World Health Day, we tied-up with Zoylo – a leading online healthcare platform that connects people with easy access to healthcare service providers. We displayed Zoylo's 'Health For All' campaign content on our screens across New Delhi, Mumbai, Bangalore, Hyderabad and Chennai for 5 days leading up to the World Health Day. This was another great success story for us as we reached out to 1.03 million viewers.

We have also participated in key industry events where Shriranga was invited to be a part of panel discussions. He was the Moderator of a panel discussion on 'Technology and its Implication on the Present & Future of the OOH Industry' at the E4M NEONS OOH Conference – the OOH's flagship conference.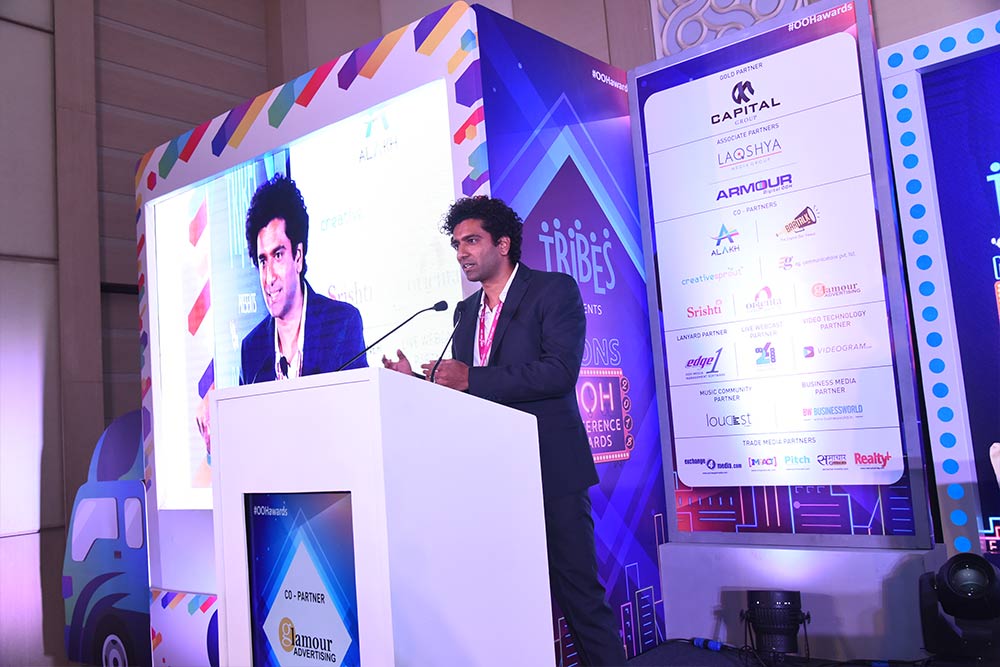 Mr. Sudhakara was also invited to be a panellist at the BW Businessworld 8th Annual SME Leadership Conclave & Awards where he spoke to the audience on his experiences and learnings of what it takes to be a resilient entrepreneur.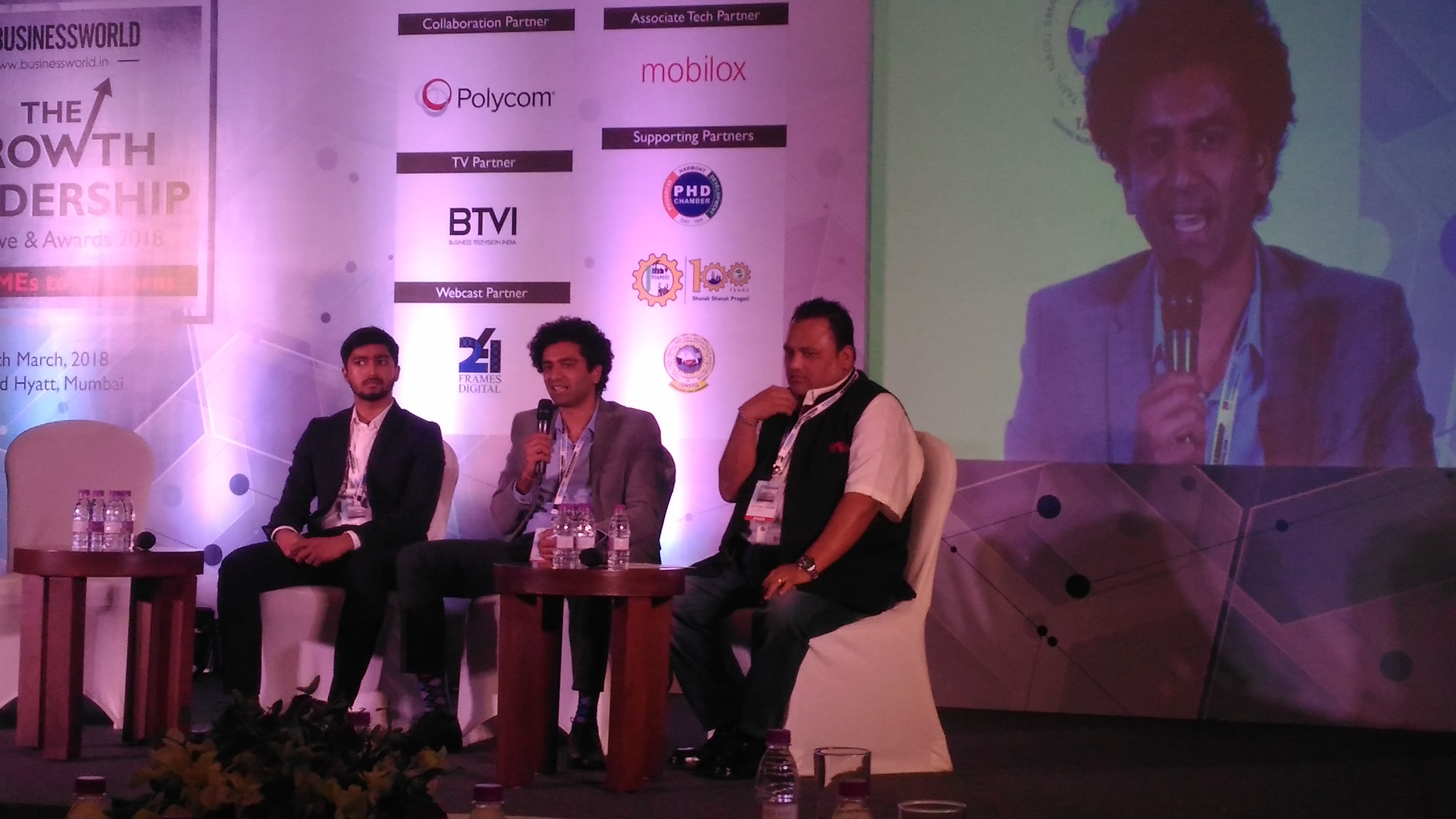 Our Innovations and Products team also continued to do stellar work and a number of industry first products were rolled out. Apart from amplifying existing campaigns, advertisers can now look forward to integrating their social media content on our displays, showcase 'live' and 'real-time' content as well as engage with their target audiences through call to action campaigns. Sector specific products were also introduced to the market to help Sports brands and Entertainment and News Channels achieve standout.
Additionally, recognising the continued criticality in demonstrating measurability in showing
effectiveness, a new Viewer Estimation Report was also introduced which captures the daily number of impressions at every location. We strengthened in a number of areas with key personnel and continue to identify the best in talent from across industries. Mr. Rohan Srinivasan joined us as Chief Marketing and Communications Officer and Mr. Rajiv Bose also joined us as our Chief Revenue Officer. Apart from this, we continued to make strategic investments in strengthening our Sales, Marketing, Technology and our Operation teams. Celebrating 10 fantastic years also brought about a brand new identity and revamped website earlier this year. The feedback that we continue to get has been very encouraging and delightful with many onlookers commenting on the fact that our new logo perfectly brings to life our brand and business proposition. The pixels in the new and bold 'V' represent screens and the distinctive micro-chip outline represents technology.
In the next few months, we will be announcing our entry into yet another exciting transit vertical so do stay tuned to know more.
All this promises to bring new and exciting opportunities for our business over the course of 2018.
We look forward to engaging with you further and thanks for your continued support.