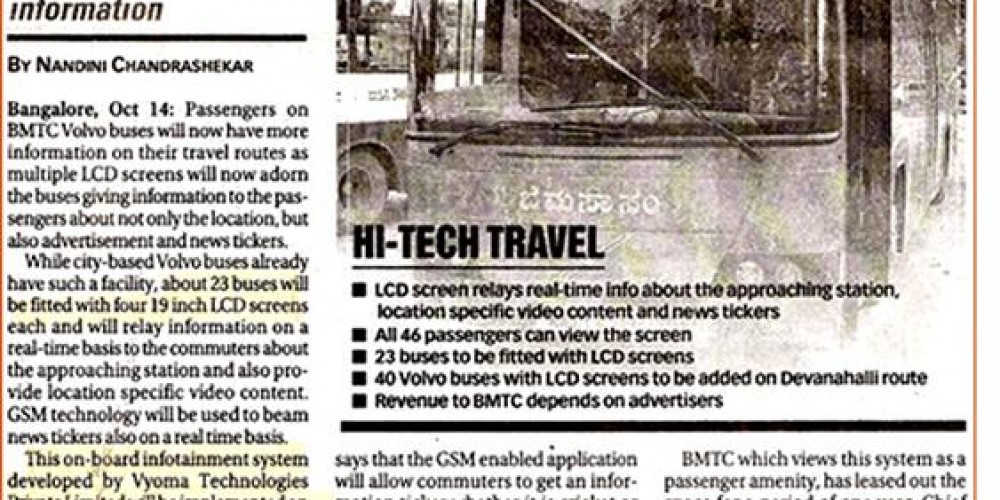 Passengers on BMTC Volvo buses will now have more information on their travel routes as LCD screens will now adorn the buses giving information to the passengers about not only the location but also advertisement news tickets.
While city-based Volvo buses already have such facility, about 23 buses will each be fitted with four 19 inch LCD screens each and will relay information on real-time basis to the commuters about the approaching station and also on a real time basis.
This on board infotainment system developed by Vyoma Technologies Private Limited will be implemented on pilot basis shortly and if its succeeds will be used in the City.
Vyoma Managing Director Shriranga K Sudhakara says "In between the announcement of an approaching station, we will play entertainment segments. For example if the bus is approaching a bus stop in Jayanagar, we might screen a walkthrough of a property that is coming up in that area. It could also be that location of restaurant in that particular area: He also says that the GSM enabled application will allow commuters to get an information ticket whether it is cricket or breaking news.
The advantage of four screens, he says is that they are positioned in sucha way that all the 46 passengers can view the screen. The company has also installed interactive screens at Railway reservation counters which will display ticket details required while booking a ticket.
However, Sudhakar admits that the revenue potential of such projects is uncertain and depends on the advertisers.
BMTC which views this system as a passenger amenity, has leased out the space for a period of one year, Chief Traffic Manager KS Viswanath says that the contracts for these system to be installed has been awarded to two companies, Initial problems encountered with regard to connectivity have been dealt with and the response from people has been encouraging,he added.
BMTC planning to add another 40 Volvo buses to its fleet towards Devanahalli and if this pilot project goes well, them these buses might be fitted with the monitors as well.
HI-TECH TRAVEL
*LCD screens relays real time info about the approaching station, location specific video content and news tickers
*All 46 passengers can view the screen
*23 buses to be fitted with LCD screens to be added on Devanahalli route
*Revenue to BMTC depends on advertisers