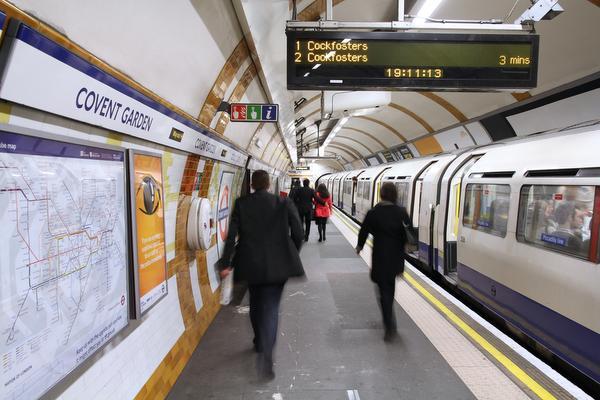 How to target customers at the right time and with the right message
The reality of everyday commuting for most of us is as follows – every morning you arrive at the same platform, see the same billboards, get into the same train, see the same faces, get off at the same station and get into work. In short, commuting is mundane and monotonous. Now picture the same scenario but from an advertiser's perspective and how they are trying to engage with consumers. Once you reach the station, you come across an advertisement on a digital screen that reads "Get pumped with an early morning smoothie for your 5 km journey ahead". You then take a seat in a crowded train and more digital screens accompany you saying: "Get your energy levels up with a delicious Banana Oats smoothie at the nearest stall". After completing your journey, you move towards the exit and a breakfast-on-the-run stall catches your attention. It is the same brand that has been trying to get your attention throughout your journey thus far. You pause and consider whether you want to buy a smoothie.
During this whole journey what seemed like a trigger for a customer to pick up his or her simple breakfast meal, was, in fact, a well-thought out marketing effort, which the community refers to as contextual messaging. With a focus on targeting consumers on the move with impactful, timely and relevant brand messaging, the scope of contextual messaging has never been more promising, especially within the digital-out-of-home (DOOH) landscape.
Context setting
For the past few years, DOOH has been able to establish itself as an innovative solution for brands and contributed significantly to the growth of the advertising market. Aided by technological advancements, its evolution from an inflatable static billboard to an interactive digital sign has been meteoric, and has put the progress of digital place-based advertising into context vis-a-vis other mediums. Geo-targeting, real-time updates, touch screens and demographic analysis, amongst others, has led DOOH to become an essential touch point for all brands. Contextual messaging is yet another offering which is set to take the medium to the next level by giving advertisers a solution of targeting customers at the right time with the right message. It is all about adding relevance with the right use of data and predicting consumer behaviour.
The biggest challenge for any brand today is to stand out and make a big impact. Contextual messaging allows brands to optimise variables such as time of the day, social behaviour, weather patterns and optimising cultural moments (such as movies, TV shows, events) which will create experiences that will resonate. The example cited earlier gives a glimpse of the right use of data to develop a contextual message. Comparing the journey route to that of a marathon and the general notion that runners will require pre-workout drink or food, gave the brand the opportunity to tap into the mindset of the customer and conceptualise a campaign and messages accordingly.
Adoption and pitfalls 
Brand owners, creative agencies, media buyers and the media ecosystem have started to recognise the growing potential, and the scope of this medium is imperative. Brands are already moving away from the traditional set-up due to the predictability and reach of the medium. Consumers are also no longer attracted to a static print ad or just ad pop-ups. The evolved audience groups now require inclusivity, pragmatism and campaigns which fascinate them and also engage at the same time. The shared ownership or involvement presented by an ad leads to more top-of-the-mind recall.
While it is established that contextual messaging provides ample opportunities for advertisers to build fresh intuitive and relevant campaigns that are DOOH-first, the question is whether or not it has caught the attention of the industry given the potential it holds. If you were to go by industry data alone, it looks extremely promising as one expects a 25 per cent CAGR by 2019. However, the adoption journey has not been been entirely smooth, primarily because the need to discover innovation in DOOH has been relatively low compared to the legacy mediums. Also, algorithmic filtering of data points which is core to contextual messaging is at a nascent stage in India owing to fragmented data points. Having said this, with the country powering into hyper-connectivity and digital economy, DOOH's transformation story has just begun.
Bringing relevance
Keeping the marketer's mantra of contextual effect at real scale in light at all times, DOOH advertising also brings with it the ability to provide richer content potential, backed with the agility of working on a multi-layered and integrated advertising campaign like no other medium. With its high frequency interactivity and immersive experience, the platform can seemingly become a part of consumer's everyday life.
If you think about it, a simple addition of a weather update backed by pop culture references such as Game of Thrones is a perfect opportunity to get audiences involved. Let's visualise a hypothetical HBO campaign in Delhi that could run in December or January with the message 'It's 16 degrees, when the snow falls and the white winds blow, the lone wolf dies, but the pack survives. #Winter is here' with a countdown to the next season's teaser. On the other hand, the same campaign can be run simultaneously in Bangalore where the message will focus on the warmer weather in the city '28 degrees in Namma Bengaluru today which is similar to King's Landing. I am the Queen of the Seven Kingdoms. Well, three at best #QueenCersei.'
Technology is getting data-smart and DOOH is set to play a greater role in the implementation of effective campaigns. Live updates will allow for more real-time data-driven ads which will improve the contextual relevance of campaigns. This is reinventing the advertising industry and adds unmatched value to any business.
Shriranga Sudhakara is Managing Director of Vyoma, India's leading digital out- of-home company Read More